I arrived in Nkokonjeru on August 30th, but it was a long journey to get here. First it was two flights, one from Chicago to Amsterdam, and another from Amsterdam to Entebbe with a short stop in Kigali. I left Chicago at 4:10pm on the 27th, and arrived in Entebbe at 11:00pm on the 28th. The moment I stepped out of the airport and into the crowd of people waiting to meet those disembarking the plane, I was given a bouquet of roses in dusty pinks and yellows. A tall young man, who I later learned was Joseph Kkonde's son, approached me, handed me the flowers, and took the cart with my luggage so I didn't have to push it. Everyone came up to me and said "You are welcome," and "Nice to meet you," and I was so overwhelmed that I admit many of the names escape my memory. But they made me feel very welcome and I was instantly at home.
I went with Sr. Immaculate Nabukalu, Head Teacher of Uganda Martyrs Namilyango Junior Boys School, to the convent at Namilyango to stay for a couple of nights. To get to Namilyango from Entebbe you have to go north to Kampala and then travel through several villages. The roads are potholed and dark, and we flew down them at speeds of 80 to 100 kilometers an hour [roughly 50-62 mph]! I glanced over at the speedometer, and then wished I hadn't looked. Just a few days later I've realized that everyone drives that fast—cars speed up to pass constantly, weaving into the oncoming lane. Boda Bodas (motorcycle taxis) dart through traffic, squeezing between the front bumper of one car and the back of another (there might be less than three feet of room, but they still manage it), or they come speeding up alongside you. People run across the street, and I have yet to see a single crosswalk—cars and Bodas don't stop for people, they just honk their horns and expect them to get out of the way. Being new to this, it's more than a little terrifying, but I've begun to get used to it. As we drove I was glued to the window. Nightclubs and small shops line the roads, with lights and sometimes music, and hordes of people, even at night. By the time we reached Namilyango it was almost 2:00 a.m.
I spent the next day at Namilyango and went to the National Wildlife Center (the Zoo!), saw Lake Victoria, and got chased by a mischievous monkey. I also had my first experience paying in Ugandan Shillings. The current exchange rate for Ugandan shillings is 2,580 shillings (UGX) per U.S. dollar. So I bought chicken and chips for 18,000 UGX and a coke for 2,000 UGX. It was more expensive at the restaurant because it was in the National Wildlife Center (places in zoos and such are always more expensive). As we drive places we constantly pass buildings that are painted red like a Coca-Cola bottle, that advertise a coke for 800 UGX. At first glance, it seems like a lot of money, but when you do the math you realize that you are really only paying a few cents!
So the next day I was driven to Nkokonjeru. Nkokonjeru is quite beautiful, but the road to it is very bumpy and since it is the rainy season it is also very wet. The road is in the process of being levelled so it can be paved, which will make the journey much smoother and shorter, but it is not there yet. When I reached Nkokonjeru, Flavia, was waiting to meet me at the CARITAS house. Flavia is a wonderful person and I love spending time with her. Essentially she takes care of volunteers and interns during their stay. Besides cooking delicious meals, she is our "guardian angel". Flavia takes us under her wing and teaches us about local customs and norms. She is teaching me to speak Luganda, which is the local language. It is a very beautiful language and I hope that one day I can speak it well. Right now I am just learning to say things such as "Sula Bulungi" which means "Good Night."
There are several things about Ugandan culture that I wasn't prepared for but enjoy very much. The first one is that everyone says hello. It is considered a value to greet people, so everyone says hello here. I love it! It makes it very easy to approach people and make friends. The second is the different beauty standard. Flavia has been showing me around Stella Maris and Nkokonjeru, and everywhere we go people tell her that I have "a big butt." The first time she told me someone said this I was floored, and I'll admit just a little insulted, so I laughed and asked if that is considered a compliment. It is! Apparently, curvy women are considered beautiful, so when people say that I have a big butt it is a compliment. When you call someone thin it is an insult. So now whenever people say I have a big butt I laugh, smile, and say "Webale" which means "Thank you."
Since I am a westerner, people call me a "Muzungu" so wherever I go the children are waving and shouting "Muzungu, Muzungu!" It's not a derogatory term, but rather an affectionate term referring to white Europeans (regardless of whether they are European, or American, or anything else!) Sr. Carolyne, our Program Coordinator here in Nkokonjeru, who is so much fun, is also helping me as I try to speak Luganda and eat like a Ugandan — I have to learn to put sugar in my tea, which tastes pretty good, so I am glad to do it!
Another thing I am learning is that electricity is not to be taken for granted. The power here goes out when it rains, and since it is the rainy season it has rained every day that I have been here. So yesterday afternoon the power went out, which means no lights, no internet, no hot water (small things, but you realize how much you appreciate them once you don't have them), and it only came back on around 6:00 this evening!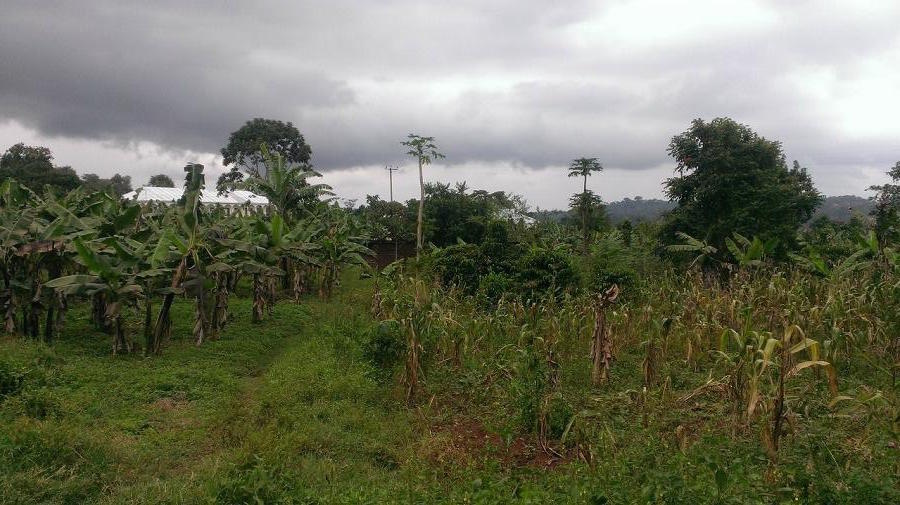 The past few days have been incredible. My camera has never been far from my hand, and I'm trying so many new things I don't know where to start when I tell people about them. Some of my favorite foods so far are Chapati, which is like fried pita bread with carrots and onions, and Matoke, which is steamed green bananas—it tastes almost like mashed potatoes without butter!
This week I am exploring Nkokonjeru and eagerly waiting for this weekend to come so I can meet all the Stella Maris girls as they come back from their break.