My name is Samantha Slimmer and I am currently interning for CARITAS for Children here in Nkokonjeru, Uganda. I will spend most of my time teaching Primary 3 and 4 at Stella Maris Boarding School but will also have the opportunity to meet and visit with children who qualify for sponsorship.

During my first week in Nkokonjeru I met many families who were requesting sponsorship for their children; however, there was one that particularly stuck out to me. Ddembe and his father came to our house early in the morning on February 6. I went out to greet them while they waited for Joseph Kkonde. As I sat next to Ddembe, I noticed that the small boy's feet and legs were swollen which is caused by jiggers: small parasites that thrive in dry areas and make their way under one's toe and finger nails, eventually reproducing and living under the skin. This causes intense itching, swelling, pain, and eventually infection. No child deserves to live in an environment that is detrimental to their health. I had to leave Ddembe and his father on the porch to go to school; however, I could not stop thinking about them. I could not stop thinking about how different Ddembe's life could be if he could afford an education.
After I returned from school, Scott and I decided to make an unannounced visit to Ddembe's home. The severity of his situation encouraged us to work promptly for him. As we approached his home, we saw that he lived in a mud hut, no larger than the living room of my college apartment...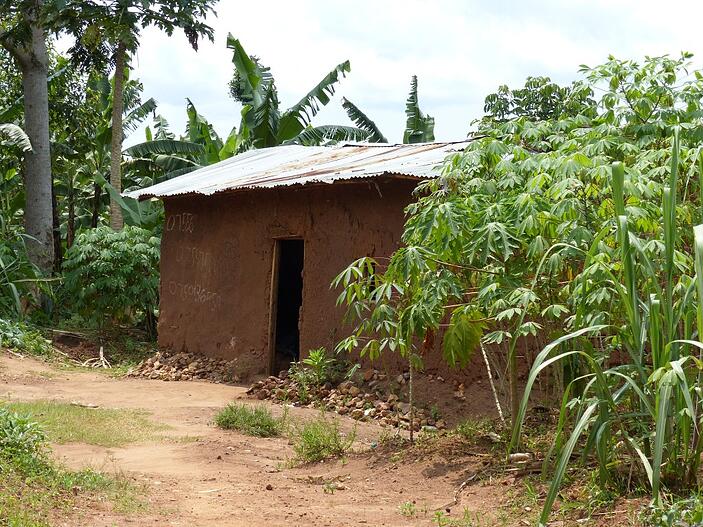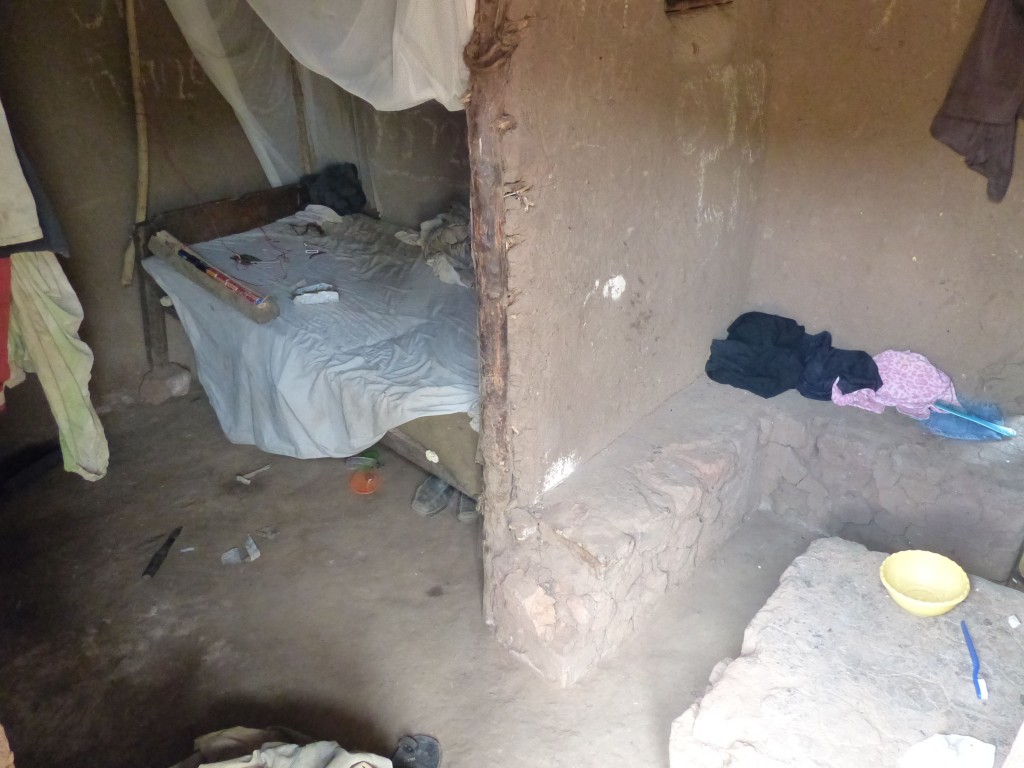 When we first arrived, Ddembe was not at home which actually gave me the opportunity to really speak to his father and to hear his story. Ddembe's father, Marvin, is a kind hearted and hard working man who wants nothing more than the best for his son. He used to be a builder, but after his tools were stolen he was unable to work and could not afford to buy new tools. He told me that he is only able to feed his family because they have a small family garden. After we spoke, I asked permission to take a photo of him. Marvin was extremely excited to have his picture taken but said "Wait one moment, let me put on my good clothes." He dashed into his home and quickly returned wearing a different pair of pants and a jacket. He was extremely proud and couldn't help but smile as I told him how "smart" (a word used for well-dressed) he looked.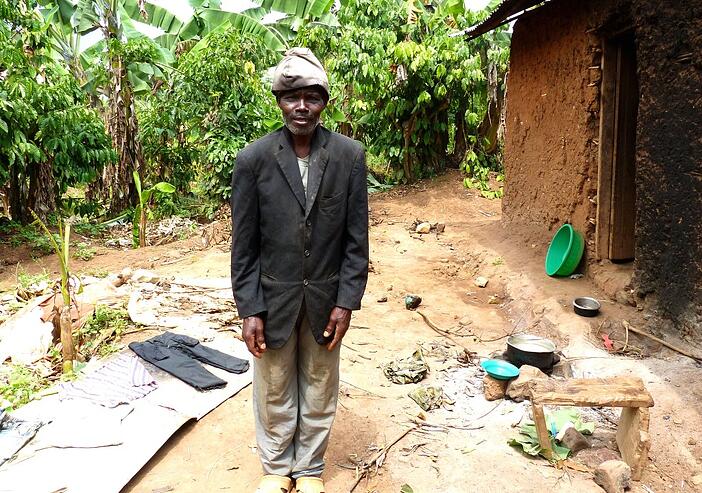 Ddembe and his brothers came home about 20 minutes after we arrived. He was quite shocked to see us at his home as he had only seen us a few hours earlier at the CARITAS house. Ddembe is shy, polite, but very bright. With the mention of school, his whole demeanor changes. It appears that school and hope mean the same thing to him. He is well aware that having an education will give him the opportunity to end the cycle of poverty in his family. What Ddembe faces daily is unimaginable for many of us: jiggers, extremely cramped living spaces, unemployed parents, an inability to access food if the garden is unkempt, and an inability to afford an education, which should be a basic human right made accessible for all people. As I sat in the backyard with Ddembe and his father it was impossible to not think about how lucky I had been growing up and how life would be so different if I would have been born to another family. While Ddembe has experienced poverty his entire life, I firmly believe that the love of God will shine through and that Ddembe will find a sponsor to help him with school. Like the other CARITAS children, Ddembe has so much potential to become whatever he wants. We may not be able to change the world, but it is most definitely possible to change this child's world....