As you may know, communities in northeastern Nigeria have suffered a recent rash of violence, perpetrated by the terrorist group Boko Haram. Their name means "Western education is forbidden" in the local Hausa language, and they are committed to creating an Islamic state in Nigeria.
On April 14th the militants kidnapped more than 200 girls from their school in the town of Chibok, and on Sunday, May 4th, another eleven girls were abducted from the village of Warabe. The very next day militants attacked the town of Gamburu in a massacre that has left at least 125 villagers dead. All these villages are in northeastern Nigeria along the Cameroon border.
Thankfully, CARITAS ministry partners and the children we serve are located in southern Nigeria, an area of relative safety removed from these attacks.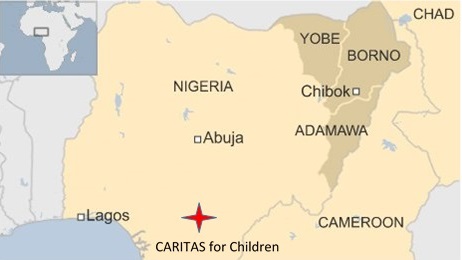 Amid growing frustration with the Nigerian government's response to these events, trending social media movements are calling for greater efforts to #BringBackOurGirls. You can also check out the Facebook page here.
We ask you to join us in praying for the well-being and safe return of these kidnapped girls, who range in age from 12 to 18, as well as for the victims of the massacre in Gamburu and their families.
We pray for the continued safety of all who serve and benefit from the CARITAS For Children ministry in Nigeria.
Let us also pray, as Jesus taught us, for the persecutors. May God rend the hardened hearts of the Boko Haram, so that they may see the error of their ways and beat their swords into plowshares.
With you, full of hope in our Lord Jesus Christ, we await the day when the oppressed will be set free.
Sources:
http://www.bbc.com/news/world-africa-27310183
http://www.cnn.com/2014/05/07/world/africa/nigeria-abducted-girls/index.html?hpt=hp_t1
http://www.reuters.com/article/2014/05/07/us-nigeria-girls-idUSBREA450IO20140507