Recently I have started teaching at one of the local nursery schools, St. Anthony. Two of the nuns, Sister Lucy and Sister Immaculate asked me help teach phonetics for both their students and teachers. So far it has been a wonderful experience. I have been teaching in the Top Class, which just means they are the kids who will be entering Primary School next year rather than having another year of nursery school. There are 14 students in my class and they are all so sweet. Even though I know little Luganda and they know little English, we have taken a liking for each other. At recess five or six students, all of them waiting their turn to tell me a story in Luganda, surround me. I just shake my head and say, "kale," which means "ok." Who says you need to speak the language to listen to a child?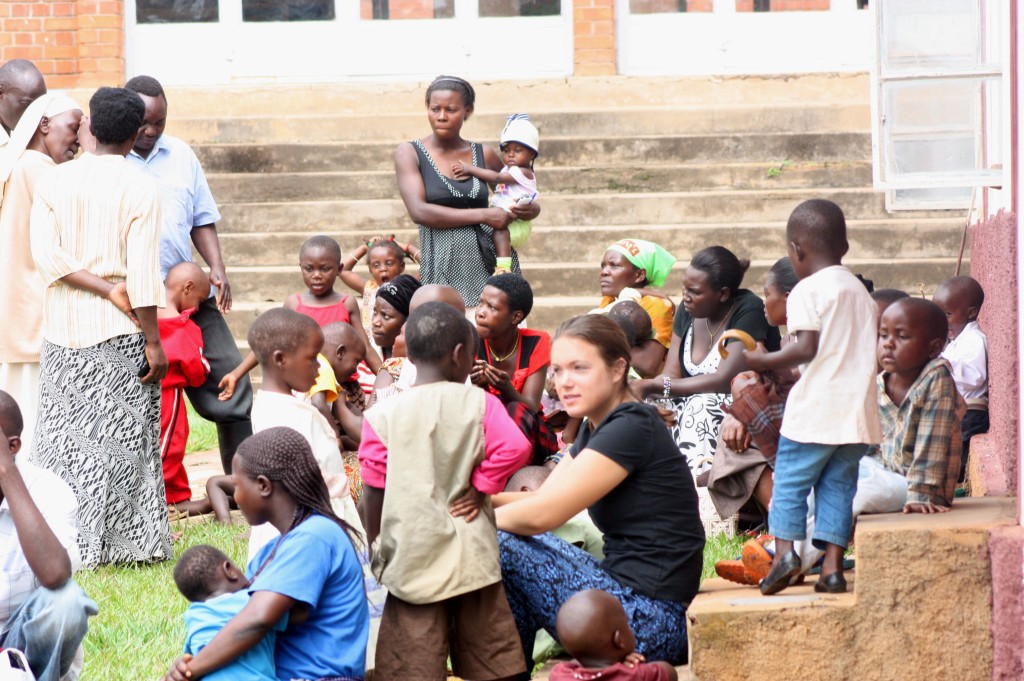 Waiting to speak with the families
After speaking to the nuns, I learned that not all the children were paying to go to school but rather Sister Lucy and Sister Immaculate have allowed them to come for free but I also found out they knew of more than 30 students who should be in school but whose parents are too poor to afford it. Sister Lucy told me that these kids, usually between the ages of 3-5 sit in the fields all day while their parents dig, usually only making enough to cover food for one day.
When Scott went to interview the parents and take photos of all the children who should be in school, he invited me to come alone and help out. When we got to St. Anthony's I was a bit shocked and well I'd be lying if I said I wasn't overwhelmed. It was very disheartening to see so many children who should be in school, but instead are sitting in the fields, places that are not suitable for young children. I spoke to about 17 families and each of their stories left an impact on me. It is unbelievable the diversity you find in a relatively small village.
Listening to the stories broke my heart in the same way that it made me feel hopeful. Most of the children had suffered some sort of loss and were under the care of someone struggling; however, all of the children are coming from those who care very much care that they get an education. They realize the potential their kids will have if they go to school. One man's story particularly stuck out to me.
Kagwa sat across from me, holding his three-year-old daughter, Monica, and holding the hand of his five-year-old son, Stephen. Kagwa stuck out to me because the majority of the time, it is the mother, grandmother, sister, or aunt caring for the children. It was very sweet to see how he was so compassionate with his young daughter who could barely keep her eyes open. It was clear that she was very comfortable in her loving dad's arms. Kagwa told me that he has four children. His oldest daughter is Jane (8), then Stephen (5), Monica (3), and a newborn. Jane, Stephen, and Monica have the same mother, Rose. Shortly after Monica was born, Rose abandoned her husband and three children. Since then Kagwa has remarried. Kagwa is a farmer and works long hours every day to provide for his family. He is currently paying for his eldest, Jane to go to school but said he will not be able to pay for her anymore. When I asked why he disclosed that he is also taking care of his brother's kids!
Kagwa's brother died of an illness and his wife left her four children. Not only does Kagwa have four of his own kids to care for, but he is also taking responsibility for Emmanuel (15), Fabiyano (15), Angera (11), and Stephen (9). Since his nephews and niece are older, their school fees are becoming out of range of his low wages. Despite struggling on a daily basis, Kagwa has showed love and compassion for his four children, and his brother's four children. There is not a doubt in my mind that he understands the value of a good education and wants nothing more than for all eight kids he's responsible for to have the opportunity to be educated and to live a life free of poverty.