Four-year-old Benedict lives in a two room house made of reddish-brown mud plastered over a wooden frame, woven from sticks. In places, the mud has crumbled away from the frame, letting small pools of light inside, where they dot the dirt floor. Angela, Benedict's grandmother, wants to patch the holes, but, at about eighty years old, she cannot manage the task on her own.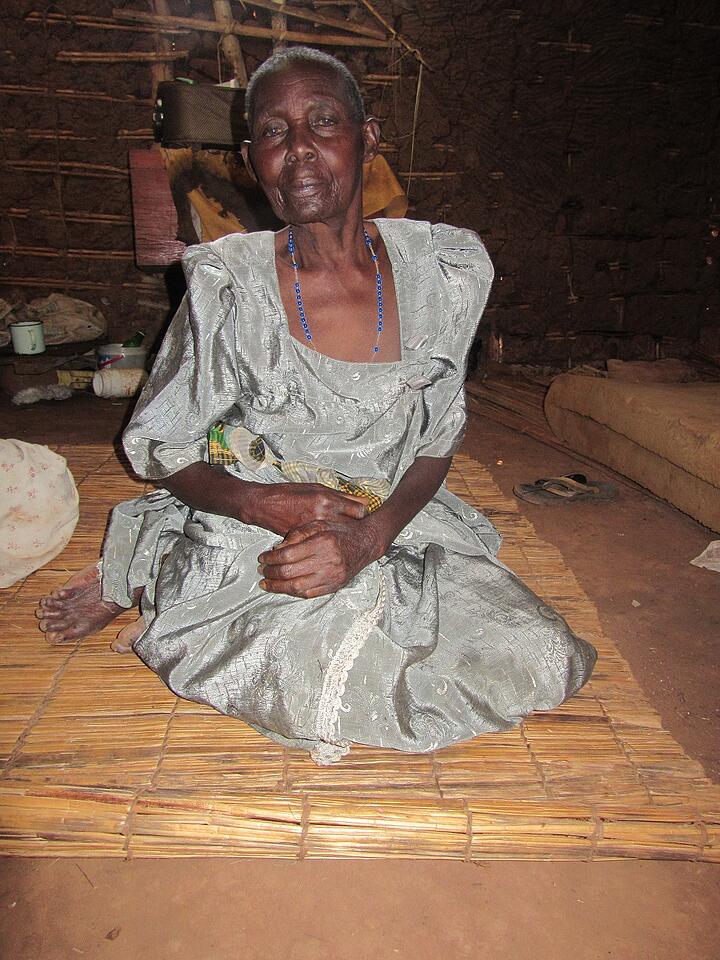 Angela, Benedict's grandmother is about eighty years old and walks with a very stooped posture, but she is a very dignified and kind woman.
Angela lives in the house with five of her grandchildren, whose parents are either unable or unwilling to care for them. Benedict is the youngest; the oldest is fourteen. Years of caring for children, first her own and now her grandchildren, have left Angela with a stooped back and graying hair, but also a kind, wrinkled smile and a warm handshake.
Benedict, who now attends nursery school through CARITAS child sponsorship programs, has lived with Angela since he was an infant, when his father abandoned his mother, who found herself unable to care for him on her own. Angela took Benedict in, keeping him alive on cows' milk and mashed matoke, a staple food similar to green bananas. Even under his grandmother's loving care, however, Benedict is small for his age, likely due to chronic malnutrition.
Despite his size, Benedict dutifully goes with his four cousins each day to fetch water in yellow jerry cans. After filling them at a shallow well, the children lug them home, where the muddy brown water has to be boiled before it is safe to drink. Boiling requires a second outing to fetch firewood, which fills the little mud house with thick smoke, a cause of respiratory illnesses in many poorly ventilated households. Sometimes, thirsty after a game of football or a day spent hoeing the fields, taking the time to gather firewood and boil water is too tiresome, and the family drinks straight from the jerry cans. On rainy days, when the dry firewood runs out, obtaining clean drinking water is almost impossible.
From bouts of typhoid to severe diarrhea, which can lead to life-threatening dehydration, especially in young children, limited access to safe drinking water takes a severe toll on rural communities in Uganda. Illnesses and secondary malnutrition caused by bacteria and parasites often cause children to miss school, adversely affecting their educational achievements, which in turn affects their future prospects for employment.
In the future, however, we hope that Benedict and his cousins will spend fewer days being sick and more days happy and healthy at school, participating in class. Last week, thanks to the generosity of Benedict's CARITAS For Children sponsor, Kollin, the family received an H2MicrO Filter, which transforms the brown water from the shallow well into clean, drinkable water in a matter of seconds, no firewood required. The simple, gravity-driven filter sits in the bottom of a five-gallon bucket, which can be easily cleaned and maintained, even in low-resource households like that of Benedict's grandmother.
The filter is capable of cleaning about one million gallons of water – that's one million gallons that Benedict and his cousins will not have to gather firewood for, and that Angela will not have to stoop over a smoky fire to boil. Thanks to saved time and fewer sick days, the filter has the potential to help Angela, Benedict, and his cousins live happier, healthier lives.
Last Thanksgiving, CARITAS For Children initiated the Uganda Water Filtration Project. Joining with Stonehouse Water Technologies of Milwaukee, CARITAS invited sponsors and supporters to donate the Stonehouse H2MicrO filter to the families of their sponsored children or to any Nkokonjeru family in great need.
A CARITAS sponsor, in an effort to kickstart the campaign issued a challenge to fellow sponsors and supporters. He and his family made notice that they would very generously donate 25 H2MicrO filters if that donation was equally matched by Christmas of 2015. More than sixty filters were donated and transported to Nkokonjeru this June. I brought a suitcase full of 30 filter components myself and CARITAS founder, Chris Hoar, brought additional filters a few weeks later.
Buckets were obtained locally, and when volunteers Kollin Petrie and Catherine Dulan arrived with Chris, we assembled sixty H2MicrO bucket filters. I have begun instructing recipients of the donated filters in the use and maintenance of the H2MicrO unit. Benedict's grandmother was among the first recipients.
A group class for the St. Alphonsus Demonstration School students and parents/guardians who will be receiving bucket filters has taken place. For the Stella Maris girls, we are holding off on training until the end of the term, so that they will not forget how to use the filters before taking them home during the break.
If you would like to donate a filter to a household in Nkokonjeru like that of Benedict's grandmother Angela, please click the link below.